Click Logo for Online Ordering
Delivery Drop Off Location:
Port O Call Hotel Pool Deck, 1510 Boardwalk, Ocean City
Your New Favorite Shakes Delivered!
Made to Order and Delivered to Port O Call Hotel
Enjoy our relaxing Sound Meditation Class and a made-to-order shake using the very best ingredients. 
How to Order!
Click Here to Order Online!
Three Easy Steps:
1. Reserve your ticket for Sound Meditation Class with the date of your choice.
2. Select your Shake from the drop-down menu and complete your purchase. 
3. Pickup your Order on your order date from the Pool Deck between 9:00am-9:30am during class.
Enjoy Sound Meditation + Healthy Shake
Delivery drop off for shakes will at the Pool Deck at Port O Call Hotel between 9am – 9:30am on your selected date. Simply arrive to the Pool Deck to pickup your order. Participants for the class can bring a blanket or beach towel for added comfort during the Sound Meditation.
Menu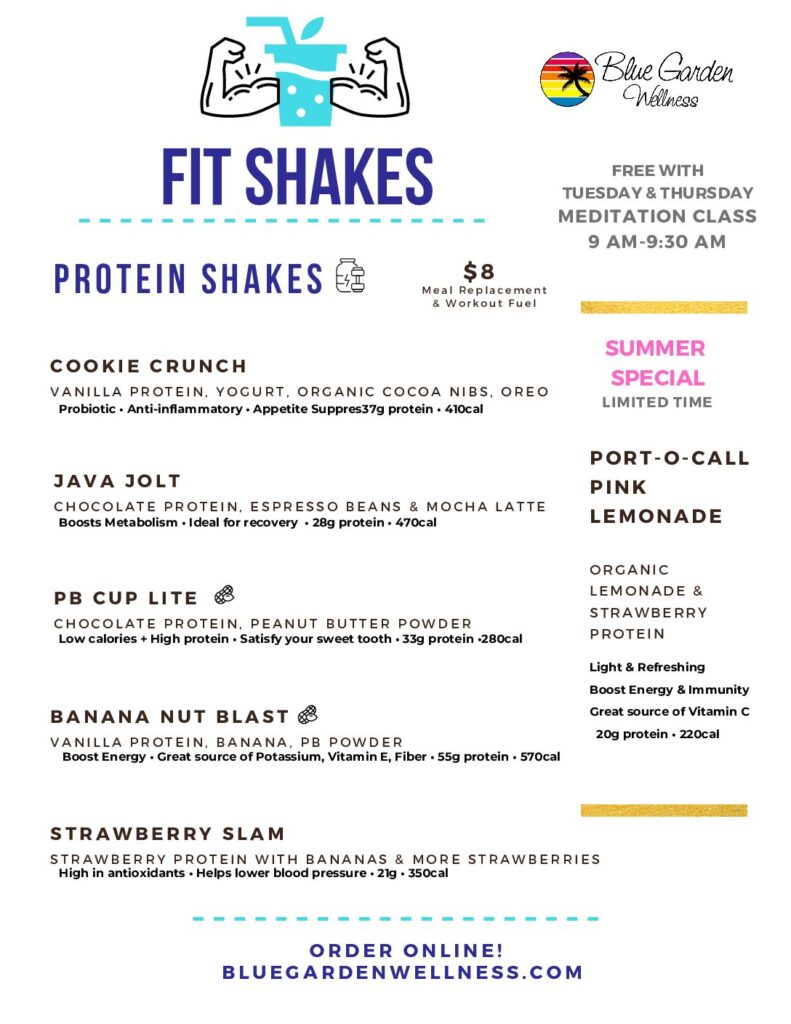 Quality
Our shakes offer unparalleled quality with only protein, natural sugars, fiber, minerals and healthy carbs. Organic natural whole ingredients are hand-blended with whey protein. Click here to see the nutrition info for each shake.
You can also can substitute protein in any shake with a Vegan vanilla protein at no extra charge!
Hours
TUESDAY and THURSDAY
Delivery Drop Off Time: 9:00am – 9:30am
• • •
Massage Therapy in Mays Landing

Effective Therapy in your Hometown Blue Garden Wellness offers massage therapy in Mays Landing local gym Hometown Health & Fitness! A gym membership is not required to book a massage. […]

The Benefits of Massage

Massage and Pain Relief Receiving a massage is historically one of the best things to do for pain, and when you're feeling stiff, sore, or tired. Sometimes we see clients […]
• • •