Port-O-Call Hotel
Stop in & see why everyone is saying, "The best kept secret is on the 6th floor!"
Port-O-Call Hotel | 1510 Boardwalk | Ocean City, NJ 08226
Call Joanna for appointments: 609-464-3819
On Call: 8 AM – 8 PM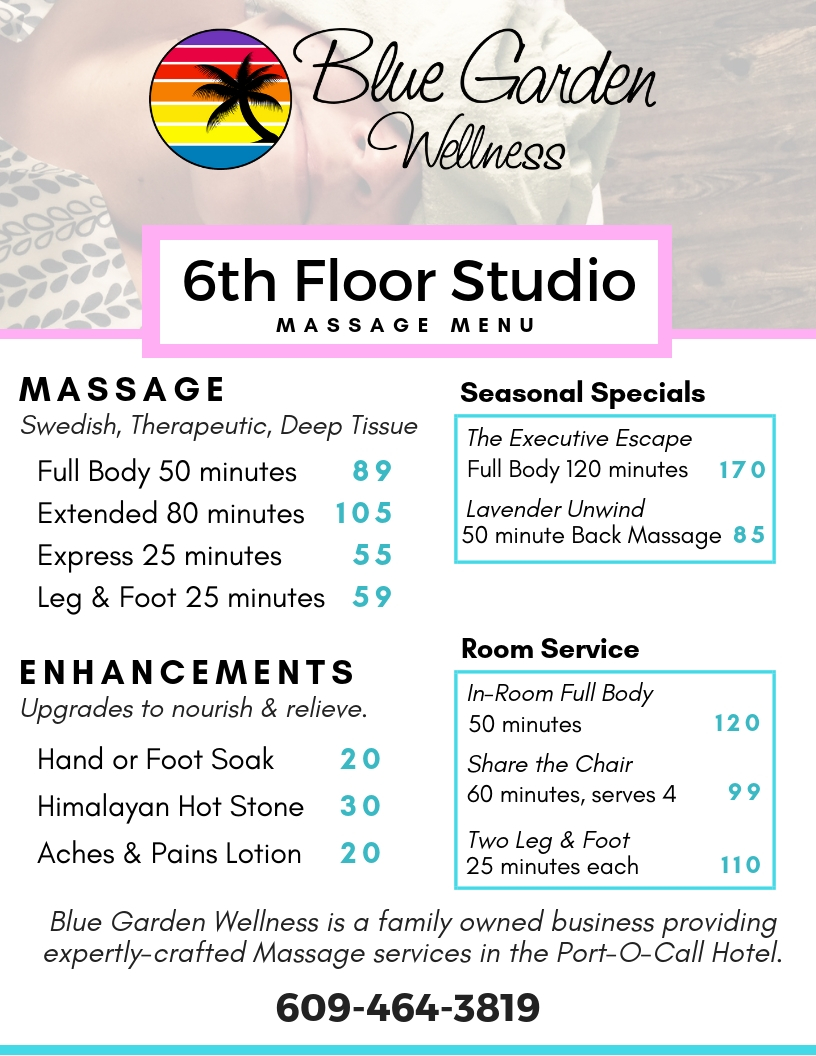 Port-O-Call Hotel in Ocean City
Make memories that last a lifetime in your favorite Ocean City vacation destination! Blue Garden Wellness is located on the 6th floor of the Port-O-Call Hotel.
Blue Garden Wellness is dedicated to providing a memorable experience for each guest through exceptional service. Only the highest-quality products are used, and treatments can be customized.
The Menu of Services includes full-body massage, leg and foot massage, deep tissue massage, aromatherapy, hot stone, and chair massage. Our 'Share the Chair' group chair massage for families to share including children ages 5 and up! Ask about group and corporate services, and bride and bridal party packages.
Call 609-464-3819 to schedule your massage today!
Port-O-Call Hotel
1510 Boardwalk
Ocean City, NJ 08226
On Call: 8 AM – 8 PM
Call for appointments: 609-464-3819
Cancellation Policy – Please note that any appointment cancelled within 24 hours of the scheduled appointment time will result in a full charge for the service including tax.